From the Bible



Isaiah 49:22

This is what the Sovereign Lord says: "See, I will beckon to the nations, I will lift up my banner to the peoples; they will bring your sons in their arms and carry your daughters on their hips.

Activity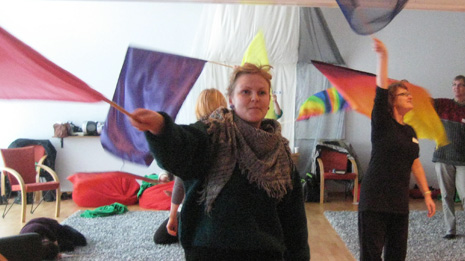 Report from the conference lovsang.no 2010

in Stavanger
Dancers and Banners wielders have their own network gathering during the conference in 19.-21.02.2010. Read the report here.

Published: 12.03.2010 from Anne Catherine Dale – www.dansforjesus.no.
This time "Dans for Jesus" participated the conference and put their mark on the weekend. It was the first time "Dans for Jesus" invited their network at an event. On Saturday we had a collection of networks and otherwise, we were on a common program. The weekend was naturally influenced by a lot of praise and worship. From the first moment the meetings also bore a strong presence of the Holy Spirit's presence with a lot of prophetic / spontaneous music, prophetic words and dance / Banners.
Friday evening Ruth Iren Grimstad told how she had gathered a group of worshipers to pray, sing and fasting for her hometown Ørnes, in northern Norway. This had led to a spiritual breakthrough on the spot. Worship is an important tool for God to bring spiritual breakthrough and revival in Norway.
Saturday morning Thomas Wilhelmsen shared about their worship service in "Impuls" and how important it is that worship leaders committed themselves in relation to social injustice. After lunch it was time for a networking session for Dans for Jesus. We were 21 partisipants in the session. Anne Cathrine Dale began to talk about how God has met her through dance in a spontaneous physical healing process in the last 4 years and led her to join and start up a network for Christians who are engaged in dance / movement. Maria Lunde and Hilde Olsson were also involved in start up the networking. Anne Cathrine stressed the importance that the network is something God has started. We are just on what He does. Therefore, we must first and foremost have spiritual focus.
Afterwards, we shared a little about ourselves. Several could tell powerful testimony of how God has called them to worship Him with dance. Even though they had little experience with dance from before, and how this leads to the release of important areas of their lives. Several had also come because they were curious about Banners and dance and they wanted to learn more. .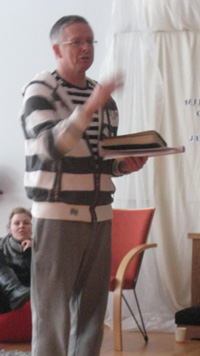 On the gathering was Lars and Elizabeth Godman. Lars has been a minister in the Norwegian Church, but God called him into a service with banners. Some years before, Elizabeth met dancing and Banners in Swedish OAS (equivalent Oase in Norway) and was very moved by this. Together they now run a service with Banners. They travel around and have seminars and participate in conferences with their Banners. Banners is the Biblical term, therefore they use that expression instead of the word "flag".
Lars told that the Norwegian Bible is inaccurate in translation when it comes to Banners. Banners in the original text are actually mentioned more times than the word dance. People of Israel used Banners in warfare and worship. Each family or tribe had their own Banners. We find some of this again in today's culture with flags / Banners related to the example institutions and nations. Furthermore, Lars told that there is a power and a anointing with the Banners. Because of that, it is important to follow the Holy Spirit's direction in wielding Banners. The pole that we have banners on; can also symbolize God's outstretched hand. In Ex 17 the people of Israel defeat the Amalekites because Moses (as representative of God) extends his hand over the battle.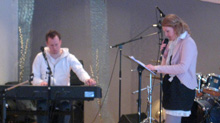 Eivind and Elizabeth Godman (Lars and Elizabeth's son and daughter in law) played, sang and read from the Bible while everyone was trying Banners. Some had never tried this before and thought it was a powerful experience. Elizabeth also called up all the men and showed some movements they could do with poles. It was the men who went in front with Banners in Israel time, and men are therefore also key personnel in service with Banners today.
Finally, we spent some time praying for each other. Elisabeth showed how we can pray for each other, by laying Banners across the shoulders or head of the one we pray for. It was a powerful experience for many.
Saturday night was Mary Vorrath the speaker. She was visiting from Texas, where she leads "School of Worship" on the Honor Academy, Teen Mania. She has received a calling to be with and help Norway in the Worship Service. She stressed the importance of when we are in a worship service, it is incredibly important that we live a clean life because people look up to us. She also talked about the Law of Jante, that we are bound by in Norway and how important it is that we are fighting against the Law of Jante and what it represents. Elizabeth Godman also performed a dance on Saturday night for the song "You raise me up".
Sunday morning, Jan Honningdal was the speaker. He talked about that every time we worship, we build a house, and that God moves into the house. A key verse in worship is Psalm 22:3 – "But you are holy, enthroned in the praises of Israel". What God is doing in his house can often break with our ideas, but He acts as He pleases because He is God and it is His house! Furthermore, Jan spoke about when we praise and worship, we put weights on a scales that is heavier and heavier and eventually will tip so that it becomes a spiritual breakthrough in Norway. We are now in the final phase of this development and it is not long until it becomes a breakthrough. Jan and his wife will spend time to encourage young worshipers / musicians and invite them to his home on the weekends. Dancers will also be welcome!