From the Bible



Isaiah 49:22

This is what the Sovereign Lord says: "See, I will beckon to the nations, I will lift up my banner to the peoples; they will bring your sons in their arms and carry your daughters on their hips.

Activity
Kerygma Bryssel 2010
"For He Himself is our peace, who has made both one, and has broken down the middle wall of separation." Eph 2:14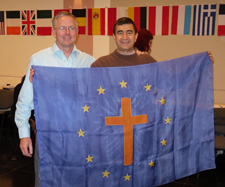 "The European Union of Prayer" invited us to Brussels, to pray during the day 13 - 16 October. We were gathered to pray for Europe, European Parliament, and its relationship to Israel. At the same time we should pray for Belgium, which this season is the host country for the European Parliament's presidency. We stayed well in the monastery Maison Notre-Dame, a Franciscan family. Torgeir was "cameraman". Before the trip, God had given us a picture of a special EU flag. This was made to us by good friends in Sweden, but not without a spiritual battle. The flag had a glowing cross in the center, symbolizing God's passion for Europe. This special EU flag was central to worship and prayer sessions at the monastery, where the Lord revealed to us three key Keywords: Unity, Identity and the Network. What is not possible with human effort is possible with God, for he is the Creator. We were total 35 participants from 11 European nations, 5 from Norway and 8 from Sweden. Thursday, we were divided into 5 different "Shop's of Prayer", based on the topics the leaders had in its hearts. We reviewed the EU's condition. Behind the polished facade is depression, mood of crisis, nationalism, materialism and immorality. The 5 groups were:
Family / gender / homosexuality
€ - crisis (currency crisis)
Cabinet crisis, in several countries, particularly in Belgium
Islam / Terrorism
Mammon / greed, consumption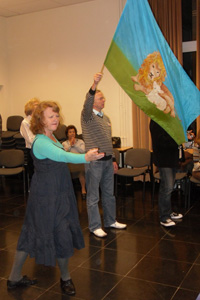 The meetings began with praise and worship, marked with dancing and banner. During prayer, we were aware that we literally found ourselves in the middle of the ancient border between the Roman and German empire. This old border split Belgium in two parts, Flanders and Wallonia. Despite the fact that Belgium constitutes a unit and was independent in 1830, there are still sharp distinction between the peoples of the north, south and east, administratively, politically, culturally and linguistically. After parliamentary elections in Belgium in June for 4 months ago, the country still does not manage to form a new government. At the moment, it is the King of Belgium who governs the country. Device in Belgium will have consequences for all Europe. Accompany with our hope in Jesus, the prayer gatherings became strong and characterized by the prophetic. Some of us were strongly affected by the Holy Spirit.
Friday, we split into groups and went prayer walking through the streets of Brussels, led by Christians from the Father's House in Brussels. Some of us used banners where we passed the parliament building, the royal palace and the triumphal arch and other historical and strategic sites. In several places we stopped and sang hymns to guitar playing from our guide. People stopped, listened and gave positive feedback. On the famous Market Square, we noticed distinct spiritual resistance. We had a spiritual "blackout", where it was very difficult to formulate prayers. We just wanted to move quickly forward. Tourists went to the market place to a certain statue in pure gold, which they could touch and that would bring them happiness. On the old town hall façade, there were closely with demonic symbols. Our young guide told us that many Christians had died here in the square as martyrs. We gathered close together in a circle and prayed against the spirit of resistance we knew. It was very hard to be at that place, we would prefer to run away.
Our young guide from the Youth with a Mission, he was from Netherlands. God had led him to Brussels. Lord had asked him to pray specifically for the theater "De-Muntre". In 1830 a revolt began and led Belgium to secede from Netherlands. In many years, Christians in Brussels gathered outside the theater and prayed for the country until 2003. We prayed that Christians again to gather and "make a revolution", to go out on the streets and proclaim that Jesus is the Savior. In the evening we visited the Catholic Church and a Free Church. We were well received by the little Free Church, where we had the final meeting for prayers in Brussels and EU.
Lord! We pray for unity and identity in You, for us, for Norway and the Nordic countries, for Belgium and the people of Europe. Let us form a network that harvest people for Your Kingdom. Thank You, Jesus, for You are our peace!

Immanuel

Elisabeth and Lars Godman
banners@godman.no