From the Bible



Isaiah 49:22

This is what the Sovereign Lord says: "See, I will beckon to the nations, I will lift up my banner to the peoples; they will bring your sons in their arms and carry your daughters on their hips.

Activity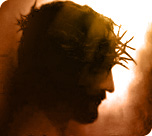 Who is Jesus Christ?

Jesus Christ is the Son of God. Unto Him is given all power in Heaven and on the earth. Jesus is the King, King of all kings. Jesus was conceived by the Holy Spirit, born of Virgin Mary. He was crucified, died and was buried. On the third day he rose again from the death. He ascended to Heaven and is now sitting at the right hand of God, the Father. On a day, unknown to man, he shall return to judge living and dead.
The Bible says, whoever believes in Him, shall not perish, but have eternal life (Jn 3:16).
They shall for all future live with Him.
Jesus won the victory over my sin and yours, and over death. Therefore, repentance and forgiveness for sins shall be proclaimed unto all nations of earth. The gospel (the good news about the victory of Jesus) shall be proclaimed. Each and everyone can now become disciples of Jesus and receive The Holy Spirit as a gift. Jesus says: "I am with you always to the very end of age" (Mt 28:18-20; Mk 16:15; Lk 24:47).




From priestministry to Bannerministry!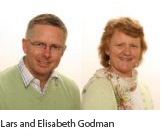 The priest-couple Lars and Elisabeth Godman is now living in Råde, 7 minutes drive from Moss Airport Rygge. For 22 years they have served in the Norwegian Church. After Lars had served 17 years as a vicar, God called them into a new ministry. They should magnify and proclaim the Victory of Jesus with Banners!
They are associated with Banner Leaders World Wide and are now traveling in Norway, in the Nordic countries and in Europe. During 2012 Elisabeth and Lars visited Israel.