From the Bible



Isaiah 49:22

This is what the Sovereign Lord says: "See, I will beckon to the nations, I will lift up my banner to the peoples; they will bring your sons in their arms and carry your daughters on their hips.

Activity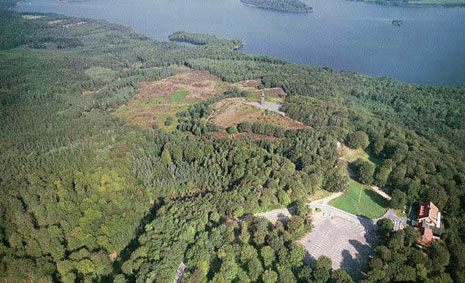 KERYGMA DENMARK SPRING 2012,

PRAYER FOR EUROPE
"I lift up my eyes to the hills. From where does my help come?" Psalm 121


On March 28th we travelled to Baggersminde (Salvation Army convent-facilitiers) close to Copenhagen. There we joined two conferences. First European Union of Prayer, then the Nordic prayer conference afterwards in immediate conjunction. Coordinator for the European conference was Ortwin Schweitzer. Bent Christiansen (Denmark) and Gunnar Brudeli (Norway) were together with several others in the leader team of the Nordic part.18 European countries were represented. Bedehus Danmark (Prayer house of Denmark) shared about the strong Burdon the Lord had given them concerning the urgent need for the countries surrounding Germany, to forgive them for their hard feelings and lack of love for Germany after the wars. Intercessors representing those nations took even this opportunity to continue this act of repenting and blessing the German people present.
This session even released the heartfelt need for Denmark to repent and ask forgiveness to the people of Skåne, Halland, Blekinge (former Danish territory in southern Sweden) and Gotland, for abandoning them to Sweden. Reconciliation and forgiveness are the keys to a united Europe. During this session of prayer and repentance tears were flowing and great joy released. One of the scriptures we received ahead of this journey was Psalm 121, the Lord watches over Denmark. We participated with Banners in worship and prayer, and people were ministered to with Banners.
Friday some 50 people prayer-walked Copenhagen with Banners. Banner-carrier in front and rear kept the group gathered and showed the way. Peoples on the streets curiously asked what was going on, and even the police wondered what we were up to. We told them we were Christians, representing 18 European nations, who had come together to pray for Denmark and bless the people, the Queen and the royal family, the parliament and official institution of finance and culture. People responded with gratitude and joy, the police as well was positive. In the evening we joined a service in Betlehemskirken.
Sunday morning service concluded with Holy Communion and a session of ministering on a personal level, where those who so wished were prayed for and anointed. Elisabeth had got on her heart to make a beautiful royal robe, to remind us Christians of our new identity, that we are children of a King. A special Kings chair, draped with white and gold had been prepared for the occasion. Those who wished were invited to sit in the chair, clothed in the royal robe, and were ministered to with scriptures and oil. Hearts were touched by the presence of the Lord. Our new Banner "The Fathers heart" was frequently used.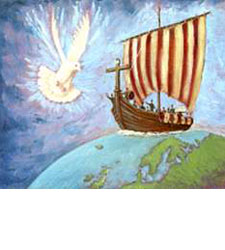 On Tuesday April 3rd we (Karin, Kitte, Elisabeth and Lars) travelled on to Himmelbjerget. We really believed that we were accompanied by far more than those we could see with our physical eyes. We had this sensation of a "Heavenly army" accompanying us both on the trip and while praying on the place of our destination. One of us had a disturbing dream the night before the trip, so we realized evil powers were trying to harm us. Our intercessors and watchmen were informed, and during the hours of prayer and proclaiming the presence of God at Himmelbjerget, we sensed complete calm and peace. Karin heard shouts of war from the Heavenly Hosts as we started to pray. We experienced freedom to act and nobody interfered or tried to stop us. We felt guided by the words received in advance: The Lord watches over Denmark.
As we arrived at Himmelbjerget, we were approached by a family who gave us 2 parking tickets for two of our cars, for free. After we finished on the highest spot of Himmelbjerget, we entered the tower. The guard, who had finished his duty for the day, had left a note: "Please enter, no charge". We felt like walking in prepared tasks.
We prayed with our golden Banners and the Danish flag at three spots on Himmelbjerget, the rostrum that for centuries had been the rallying point for political convocations. Here Kitte sang a song she had received from the Lord: "Dance, Denmark!" We sang songs and made proclamations that the Lord had given us beforehand.
The Lord also instructed us to put up a brass-plaquette with a scripture on it, a scripture we were to receive on the prayer day. Karin got the word from Gal 2:19-20: "I have been crucified with Christ and I no longer live, but Christ lives in me". The task to having it put in a place is to be completed within a near future.
In the physical realm we experienced Himmelbjerget chilly and barren this April day. But we prayed in faith for future assemblies of people all over Denmark, convocations in the name of the Lord.
We went further on to Thisted, were we stayed with Kitte and Karin for 2 days, before going back to Norway on Maundy Thursday. Our Danish friends had cared for us in a wonderful way.
PRAYER
LORD OUR GOD, WATCH OVER DENMARK
LORD OUR GOD, WATCH OVER THE QUEEN AND HER HOUSE
LORD OUR GOD, WATCH OVER THE NORDIC NATIONS
LORD OUR GOD, GATHER YOUR PEOPLE IN DENMARK, IN THE NORDIC NATIONS AND IN EUROPE

Immanuel

Elisabeth and Lars Godman